LIMS Data And Reports Online
Perhaps you want to give your clients access to their LIMS data and reports via the web. AIS labPortal allows you to do just that. Paper copies of sample analyses needn't be sent out in the post to customers. Using their unique login and security password, clients can access data from their computer, which is not only safer and less time consuming but also more environmentally friendly.
labPortal is a web based portal that securely stores your clients' sample information and data in the cloud, allowing them to easily access it instantly from their own desktop, tablet or phone. The labPortal interface is 'inbox' style which is simple and easy to use with an enhanced query engine, conditional highlighting and Microsoft Excel export.
The software features a simple and easy to use sample registration form which allows users to pre-register samples online. Transcribing data is a time consuming and tedious activity. Using labPortal, you are able to import sample information automatically which prevents transcription errors and improves speed and accuracy. By registering samples online, you will have clear instructions of what is required by your client. Only work that has been registered through labPortal will be completed. This ensures resources are appropriately managed and distributed and aren't wasted on analysis that isn't necessary.
Another feature of labPortal is its results dashboard, updated in real time. This ensures clients have immediate access to their data and can utilise this once it has been approved for reporting. This is a huge time saving benefit, one which will reduce the chances of your client encountering project delays and failures. Certificates, reports, photos, spreadsheets and other such associated data can be stored alongside these results and can be easily exported by the client.
For further information about AIS LIMS Software solutions please call +44 (0) 1531 828930 or alternatively email marketing@ais-lims.com.
Sample & Results
The 'Sample & Results' module provides an 'inbox' style interface where samples & results are ordered by the date they were uploaded. Users can search, drill down, page and export their sample & results.
One of the greatest features of the 'Samples & Results' modules is the representation of the data in the familiar 'samples down, results across' layout where a user can quickly scan a dataset seeking outliers and failures.
To further aid simple & fast identification of breached samples, highlight rules can be applied to highlight rows or cells different colours based on pre-configured rules.
All user searches are saved in the search history and can be saved into the search bar for quick and easy access.
'Samples Down, Results Across' Grid
Advanced Search
Saved Searches
Excel Export
Sample Comments
Sample Drill Down
Sample Attachments
Conditional Highlight Rules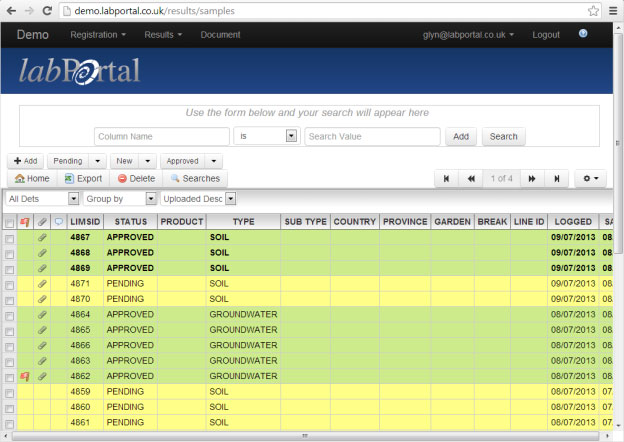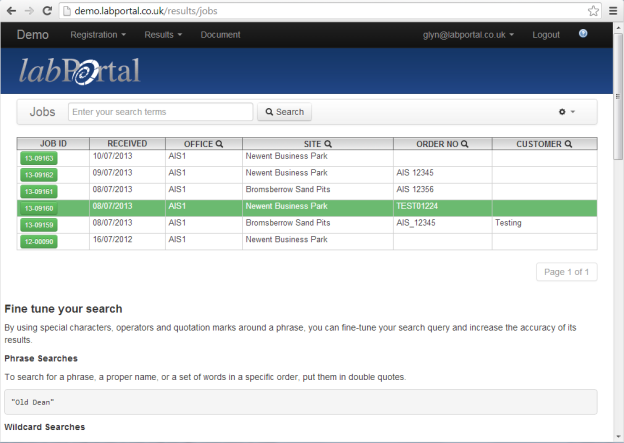 Job or Batch?
Many laboratories work with samples via 'batches' or 'jobs'. This is no problem for labPortal, as we provide a simple 'Jobs/Batches' page where a user can search for their required data and drill straight down into the 'Sample & Results' view.
Similar to the 'Sample & Results' module the 'Jobs' module enables users to build rule based row or cell highlighting so that breaches or failures can be easily identified with a quick scan of the page.
The 'Jobs' module leverages our new simple search system that provides a Google like single text box for full text search. However, simple does not mean basic, with its advanced query operators the jobs search functionality has incredible power.
Simple Search
Conditional Highlight Rules
Sample Drill Down
Certificates & Reports
labPortal has the capability to host and process multiple types of documents that a laboratory might want to associate with your samples and results. labPortal provides a simple search, navigation and pagination with secure download of your documents.
Simple Search
PDF Certificates & Reports
MS Excel Reports
MS Word Reports
Photos & Pictures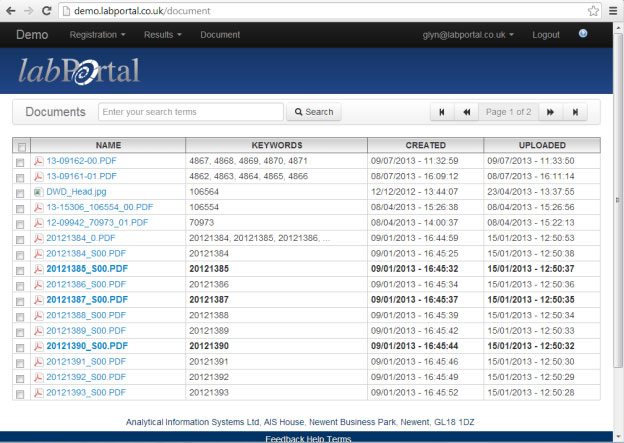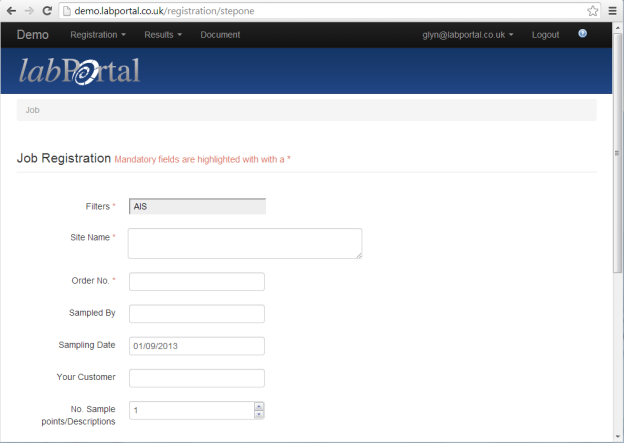 Orders Module
The greatest value for any laboratory is digitising the full data management of the sample submission process. The labPortal solution offers an ecommerce style user experience where a user can build a basket of samples that get submitted to the laboratory for processing.
New Samples, Batch or Job
Dynamic Look Ups
Saved Batches
Pending Batches
Submitted Batches
Barcode Receipt
Email Confirmation
Multi-User Access
Desktop, Tablet & Mobile Access
Give your customers access to their data from any device, anywhere.